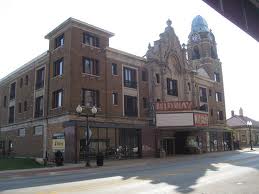 A 30 by 100 foot section of the roof collapsed at the Midway Theater in Rockford Illinois on March 23rd. The historic theater is the gateway to Rockford's downtown. The building features a clock tower, signature marquee and an intricately designed facade.
The building owner Peter S. Crane must complete the roof repair in accordance with a strict timeline or face payment of the full code violation fine of $45,000. City officials had originally sought $135,000 in fines because of the lack of progress towards repairing the unsafe structure.
Goal to Get Property Up To Code
City Attorney Jennifer Cacciapaglia said "Our goal is to get the property back up to code, maintain its structural integrity and as long as we can do those things, we are willing to reduce the fine to $1,000."
According to experts, the remaining structure can support a new roof if trusses are installed. The roof must be repaired and replaced by November 1st, but does allow some delays in case of bad weather.
The Midway Theater originally opened on August 3, 1918 and hosted live performances. Able to seat 2,000 it was the largest motion picture theater in northern Illinois. The theater operated as a movie house until August 1980 when a fire almost destroyed it.