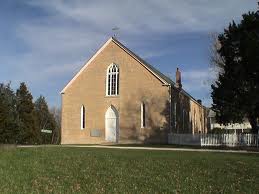 St. Patrick's Old Rock Church in Catawissa Missouri got a new green metal roof. The "old rock church" dates back to 1853 when it was a log church next to Meramec River. The limestone church's construction was halted during the civil war and then the church was completed in 1867.
The original church was built of hewn logs and covered with a clapboard roof. In 1852 a new priest took charge of the parish and began to build a rock church. In 1885 a fire consumed the roof of the church leaving nothing but the rock walls. Three months later the damage was repaired and the church roof was covered.
Graf Construction Established in 1979
Graf Construction from Robertsville Missouri replaced the roof with a 50 year metal interlocking roof. The roofers used 30 foot by 18 inch interlocking panels. The roof replacement cost $31,000. Billy Murphy of St. Patrick's Preservation Society said the roof was made possible by "a good picnic year". For over 40 years the society has maintained the church and hosted picnics.
The new roof matches the roof of the Pross Pavilion that is located in the churchyard.
Mass is held at St. Patrick's 3 times a year, St. Patrick's day, Memorial day and the annual homecoming picnic in August.