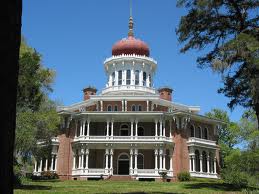 Historic Natchez Mississippi house is getting roof repairs and restoration on the home's onion shaped cupola. Longwood was originally owned by Dr. Haller Nutt when construction on the house stopped in 1861. The contractor refused to work in the area when the civil war broke out.
The Nutts as well as other slave owners at the time, lost their money stored in confederate banks. After Nutt died, his wife and 8 children lived in the basement of the unfinished home for the rest of their lives with little or no money.
The Pilgrimage Garden Club was given the house in 1989 and soon after made a fiberglass replica of the original 23 foot oak finial that had fallen off the house in 1900.
Crews Worked Inside and Out of the Cupola
Crews from Concordia Contracting, Smith Sheet Metal and painter Johnny Franks have been working on the roof and cupola. They pressure washed and painted the dome red, fixed holes in the tin structure and have repaired or replaced the woodwork below the dome and the banisters wooden spindles around the cupola. While some worked from a crane on the outside, others were able to work on the woodwork from inside the house.
Fundraising is an ongoing project for Longwood repairs. The Pilgrimage Garden Club has tried to keep the home in the same condition as it was 150 years ago.