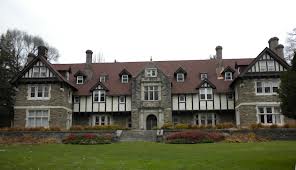 The focal point of the Radnor Pennsylvania Cabrini College Campus is the mansion formerly known as the Woodcrest Mansion. The mansion was designed by Philadelphia architect Horace Trumbauer and build between 1901 and 1903.
The school chose to replace the 25 year old asphalt shingles with clay tiles to give the school a better roof system. Howard Holden director of facilities at Cabrini said "we felt it deserved the best roof system we could install."
Restores the Look of the Mansion
About 10 years ago the Woodcrest estate stable and carriage house received a new roof and the shingles were replaced with clay tiles. According to President Marie George, "it puts a fine bonnet back on the grand old lady."
Originally the mansion was built for Widower and financial leader James W. Paul Jr. where he and his 3 children lived. In 1925 the mansion was sold to the President of Campbell Soup Company Dr. John T. Dorrance.
In 1953 the Missionary Sisters of the Sacred Heart of Jesus purchased the mansion and surrounding property for use as an orphanage and retreat house. In 1957 the sisters founded Cabrini College and enrolled 43 women in the first class. The college now has approximately 3,500 students.