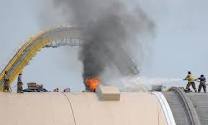 The Hershey Pennsylvania's historic arena's roof burned for more than 2 ½ hours before firefighters could put out the fire. Director or safety and security for Hershey, Tim Shellenberger said there was little damage to the building, but it will take a few days to clean up the soot and clear out the smoke.
The fire started Thursday around 1 p.m. in a small area of the roof top that had a wooden structure and multiple layers of building materials. The wood smoldered and then caught fire. Workers have been making $2 million worth of roof repairs at the time. It is unknown at this time if the roof repairs triggered the fire.
5 Alarm Fire
More than 200 firefighters from neighboring towns came to fight the fire. The fire was difficult to contain since it was 100 feet above the arena floor with very few access points.
The nearly 100 degree weather caused a few emergency personnel to be treated for heat exhaustion. Firefighters worked in 20 minute shifts in the sweltering heat.
Pat Leonard, chief of the Hershey Volunteer Fire Co. said "I call it almost a $100 fire and just a lot of manpower to put it out." He went on to say with regards to the integrity of the roof "This structure is concrete from the basement all the way to the roof, that's a continuous poured concrete roof on that structure."
Once the roof is repaired and the soot and damage cleaned up, owners expect the 75 year old Hershey arena to be back to normal.