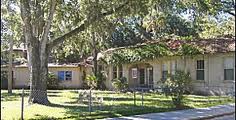 In St. Augustine Florida a debate is raging over red roof tiles. St. Paul AME Church purchased a historic building directly across from their church in 2010. The historic Echo House was built in 1926 and has had 3 owners in the last 86 years. Subsequently, the city of St. Augustine has sent the church an order to repair the building or demolish it.
Reverend Ron Rawls said the building will be used for an after school mentoring program once the renovations are completed. He also said they have spent more in the last two years repairing the building than has been put into it since the late 1970's. Previous estimates to repair the deteriorating building was up to $600,000.
Sold About 2,000 Tiles
Some of the roof tiles were removed and Reverend Rawls said the church plans to put shingles on the new roof since it is less expensive. The church has sold 16 to 20 pallets of Terra Cotta roof tiles to a roofer, who then sold them to a contractor who then sold them to a homeowner.
The debate comes in because the city of St. Augustine and City Attorney Ron Brown said the church applied for a historic preservation grant and received $2,000 to use the original red tiles to restore the roof. Brown said "the city – with agreement and cooperation of church – applied for the grant."
Reverend Rawls denies any knowledge of the grant and asked the city to provide proof that he signed any documents pertaining to the grant. The city was unable to provide any documents with the Reverend's signature.
One option the city is considering is taking the church to court over a "reverter clause" in the deed. Brown explained "if the owner of the property used the property for any purpose other than education, non profit or benevolent work than the city could go to court and ask for the property back."
Reverent Rawls said "you don't go from telling us to demolish a building to making the tiles this huge beautiful thing you want to get back."
Presently the roof tiles are in limbo and sitting in front of the property. The latest meeting with the parishioners and city officials was left unsettled on the roof tile issue.