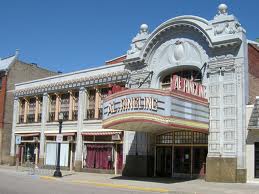 In Baraboo Wisconsin the Al. Ringling Theater will be getting a new roof as well as theater renovations courtesy of generous donations.
The historic theater was built in 1915 by C. August Albrecht Ringling, one of the circus Ringling Brothers and designed by Architects Rapp and Rapp out of Chicago. The theater was added to the U.S. National Register of Historic Places in May 1976.
Drain Pipes Run Over Auditorium
The theater design is based on the Orpheum Theater with 2 roof drains that sit over the auditorium and stage. Brian Heller, the theater's executive director said "we can only speculate why they changed the plans to include two drains on the roof."
A series of pipes run through the attic below the theater roof, crossing the auditorium and stage. The water damage from failing drains can be seen from inside the auditorium.
The new roof will be paid for with the $10,000 donation from W.R. & Foy A. Sauey Family Foundation and Nordic Group of Companies. Another $140,000 is needed to complete the project.
Tilsen Roofing from Madison is doing the roof repair; they are hoping to complete the roof repairs in two weeks. Renovations are being done to prevent water damage inside the theater.
The Theater façade was restored in 2000, and when the current renovations are finished the preparations will begin to celebrate the theaters 100th year anniversary in November 2015.