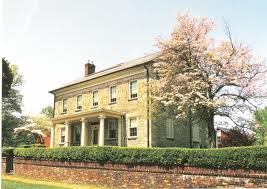 The Zanesville Ohio landmark, Stone Academy Historic Site and Museum needs a new roof. Pioneer and Historical Society Director Jim Geyer said $16,000 is needed to make the needed repairs.
The Ohio Historical Society will match what is raised locally. Over $2,000 has been raised so far. The Historical Society would like to see donations from various sources to show community support for the project.
While doing routine maintenance on the over 200 year old building they found structural problems with the roof. The entire roof needs to be replaced in addition to 145 tile slates. New slates would come from other buildings built in the same era to maintain historical authenticity and save money on the roof repair.
Roof Addition Not Connected to Gutter System
The Stone Academy was built in 1809 with a roof addition made in 1840. The addition was not properly built and water has been missing the gutter system and leaking down into the side of the building.
Geyer said "Looking at it from the outside, you really don't see where the root of the problem is. You might see a symptom. If you look up you can see the sagging part. The bulk of the cost and expenses is going to be to take and repair the rafters, the structure underneath the roof."
Originally Planned to be New State Capital
The Stone Academy is one of the oldest public buildings in Ohio; it was a public building and school until it was converted to a private residence in 1840.
The Stone Academy serves as a historical library and archives are available for research. The Museum has murals, paintings, furniture, pottery, documents and Native American artifacts. The building was used in the anti-slavery movement and has a trap door under the stairs that was used when the building was a stop for the Underground Railroad.