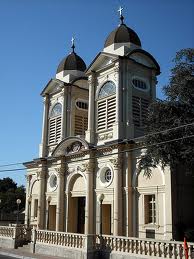 In Benicia California, St. Dominic's Catholic Church is getting a remodel. The roofing material on the two dome towers will be replaced with copper. The copper roof was approved on Thursday by the Benicia Historical Preservation Review Commission for the city landmark. The copper roofing will be consistent with the city's historic conservation plan and federal historic preservation standards.
Built in 1890, the Catholic Church was built to be part of a larger monastery founded in 1854. Father Vilarrasa moved the Dominican community from Monterey to the new state capital of Benicia in March 1854. A new church was built at the end of the block from the old church and the first Mass was held in the new/current church on March 1890.The building was listed as a city landmark in 1990.
Unsure of Original Roofing Material
Photographs and postcards show different roofing materials through the years. Hand drawn surveys from 1891 said the church roof had a covering of metal, slate, tile or asbestos shingles at the front. In 1942 the roofing material was changed to composition shingles. Some pictures show layers of material with horizontal ridges, other pictures show a smooth finish.
Project architect Joseph Garcia of Richard Avelar & Associates said "this is really a way to enhance a building that is already an incredible structure in the city of Benicia. It will stand out and be more bold and give the community something they can be excited about for many years to come."
Re-Roofing the domes began in June with hopes to be completed by the end of the year. The cost of the new roof is $490,000.