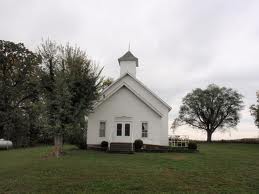 Wanda Methodist Church in Wanda Missouri was undergoing roof repair when the roofers found a layer of old wood shingles under 3 layers of asphalt shingles. Phillip Camerer's roofing crew out of Neosho is completing the roof project.
Currently with 35 members, the Wanda church was founded in 1837. The church is located in the former home of Jones Weems who along with the Ellis family settled the area. Wanda is a small community in the Missouri Ozarks near Neosho. The church is said to be the oldest standing Methodist Church west of Springfield.
Last Re-Roof Over 20 Years Ago
A few years ago the Methodist Church in Wanda installed indoor bathrooms, a handicap accessible ramp and air conditioning. They estimate 20-25 years ago was the last time the church had a new roof.
Church member Ed Schultz said "The roof has finally got to a point where we needed to do something about it. Every time the wind blew hard out of the south, we were losing shingles; they got brittle and were peeling up. Several times we had to have people come down and replace shingles here and there. It just got to the point where we needed to fix it right."
The crew re-decked the roof and put the new shingles on Friday. Schultz said there are no leaks in the roof and the church is ready for Sunday church services.