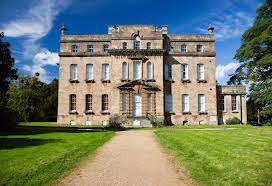 In Stroudsburg Pennsylvania, the Stroud Mansion needs a new roof that could cost over $100,000 to replace the slate roof from 1920. The historic building was built in 1795 in Stroudsburg Pennsylvania to be a home for founder Jacob Stroud's oldest son John.
The 3 ½ story building is now home to Monroe County Historical Society Museum and Elizabeth D. Walters Library. The building was saved from demolition in 1920 and was added to the National Register of Historic Places in 1979.
The Georgian style mansion has 12 rooms which house memorabilia of the county's history. Volunteers preserve and catalog memorabilia that includes artifacts from Native Americans to present day. The popular third story military room has been closed to visitors due to water damage.
New Patch Jobs a Waste of Money
The roof has received several patch jobs from local roofers through the years. They have tried to put off replacing the costly new roof, but have reached the point where the repairs are a waste of money.
Roofing contractors are now saying a full replacement is the only option. The roof of the addition built in 1893 in the rear of the building will also be replaced. The slate will be replaced as well as the copper flashing and masonry work on the two chimneys.
Thousands of dollars have already been donated by members and supporters, now they are hoping for grants to cover the rest of the project cost. They have requested $85,000 from the state's Local Share Account which uses a portion of the gambling revenues from Mount Airy Casino Resort.