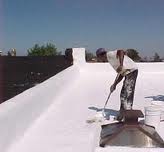 The average home and commercial building in the U.S. is made up of a dark roof material, often containing elements of tar or asphalt. While these types of roofs may not seem inherently flawed, innovations in the roofing industry have begun to shed light on some issues surrounding dark-colored rooftops.
Energy Efficiency
The sun is a vital component to the survival of our planet, but it's rays can also be very damaging. Even in areas such as rooftops, the damaging rays of the sun can cause big problems for the durability of the materials, and the need for increased energy consumption within the home. In other words, not only are dark-colored roofs higher maintenance, they also are far less energy efficient than a newer technology; white roof systems.
As one of the most recent additions to the green roofing movement, white roof systems can reduce the heat absorption of roof materials. Less heat absorption means reduced need for traditional energy consumption, cutting summer cooling costs by 20 or more percent. Some industry experts have compared the use of a white roof system to that of replacing your traditional light bulbs to CFL bulbs, and are cited as an inexpensive way to reduce the energy consumption of a home.
Although having been around for decades, white roof systems have begun to gain popularity in recent  years as the shift from traditional energy to more environmentally friendly products has gained momentum.