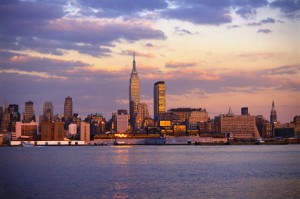 New York City is known for its dense skyscrapers and trend setting ways. With so many people and buildings crammed into a tiny space, New York City faces many challenges when maintaining a high quality of live and keeping their carbon footprint limited.  Now a new project stands to bring a big impact through solar roof panels installed around the city.
The Big Apple
New York City Mayor, Michael Bloomberg, has approved a solar power project that intends to triple the city's solar power production. 10 city-owned building will take part in the project and their roof will be home to enough solar panels to generate 648 kilowatts of power. The roof panels will be enough to power 143 households for up to 24 hours. While this may seem like a drop in the bucket for a city the size of New York the point isn't that only 143 households worth of power will be generated, but that the city and local community is gaining a new found respect for the potential of alternative energy sources.
The green roof movement is very much a lead by example type of concept. Despite years of popularity and use in other countries, America is just now jumping on the bandwagon for alternative and green energy sources. Although New York City is far from being a completely solar powered city, it has much to gain in the future with the continued advancement of their green roof movement. Some of the buildings already contain rooftop gardens and green space, both of which bring a much  needed sense of nature to residents while also cutting down on smog and providing a space to grow fresh produce.