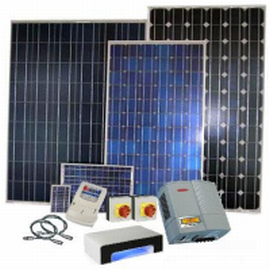 Westinghouse is one of the newest producers of an affordable "all in one Rooftop solar kit" that roof contractors or do it yourselfers can install all at once or over time. The low cost and ease of use is what makes this kit appealing to homeowners. Contact your roofer to inquire if they are qualified to do these installs.
The kit contains integrated racking and inverters, roof brackets with fasteners, roof flashings and panel splices. There are 3 kits available, a 20-panel kit, a 4 panel kit and a 1 panel kit. You will still need to contact an electrician to add wiring to the rooftop and have a circuit breaker installed in the home's electrical service panel.
Up to 70% of Electrical Needs
Depending on the set up you purchase, the kits can cover up to 70% of your home's electrical needs. The Westinghouse system requires 80% fewer parts to install, making it easier to maintain through the years. The panels are covered under warranty for 25 years and the inverters for 15 years.
The costs of rooftop solar systems have fallen over the last couple of years, and the systems have become easier to install. Other companies with solar in a box kits are Armageddon Energy and Solar Clover, Kyocera and MyGen Kits and Grape Solar panel kits.
Free Electricity After 5 Years
The price of the kits is unclear on the website, but they did offer some examples of costs for different areas with state and federal incentives. " Now, paybacks in many states are less than five years – after which homeowners get free electricity from their system," said Barry Cinnamon, CEO of Westinghouse Solar.
According to the Westinghouse Solar web site, you must have a minimum of 300 square feet of sunny roof space, own your own home, and your utility company offers good solar incentives than you will be a good candidate for Westinghouse Solar Power Systems. You can call their number for retailers near your home at 1-888-400-0668. Lowes currently sells Westinghouse Solar Panels.