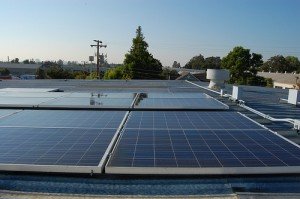 Giving youngsters a chance to find a career in solar roofing, Ploughcroft Building Services in Yorkshire have developed a National Vocation Qualification (NVQ) to help set the standard across the UK for this type of work. As the solar industry is beginning to boom, this nationally recognized qualification is perfect for those wanting to find a job in solar panel fitting.
The British government has accepted the NVQ as they believe it will boost the roofing market in this new-age of eco home improvement.
Ploughcroft Building Services' managing director Chris Hopkins bought the family owned business off his retiring father and set about a new direction for the company in eco-roofing. In Brighouse, Yorkshire Hopkins built an eco-roof center which offers demonstrations of the solar roof panels and explains how important and worthwhile they are.
The NVQ was developed by the company and is now available in 11 different colleges across the UK. Fortunately for Chris Hopkins, whose father was skeptical about the training course, the NVQ is becoming more and more popular with college-goers seeing the potential in the solar roofing field.
Under the government's feed-in tariff, UK homeowners can receive up to £1000 cash back per year for the 'clean energy' generated by the panels. By harnessing the power generated, the return on their initial investment can be as much as 10%, which as Mr. Hopkins points out is "far higher than those interest rates given by high street savings accounts".
With PM David Cameron having a wind turbine installed on the roof of his home, self-generated green technologies have increased dramatically across the UK and Ploughcroft has also seen a rise in their sales. "With the new cash back scheme, businesses, homeowners and community buildings have been contacting us in floods", said Mr. Hopkins.
The firm is looking to take on extra staff over the coming months to deal with the demand. With the new NVQ and construction skills certificates, they can train the staff even further and aim to dominate the market.
Source:
http://www.yorkshirepost.com