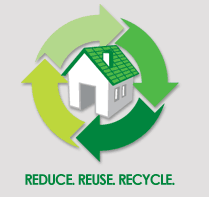 The roof is the face of your home! A bad roof can quickly downgrade the look and appeal of your home. Luckily, there are many new roof materials that can improve the look of your home while working towards saving the environment.
Even better is the money that will be saved by reducing energy consumption. Many homeowners are cashing in on the advantages of installing "green" products in their homes; but with so many new, energy-efficient products it can often be overwhelming to decide which product is best for your home.
Reduce, Reuse, Recycle
Of all the recent trends in "going green", many quality products are being made from sources we never would have guessed. There are many unusual products that can be recycled into a quality roof material. Things such as carpet, milk jugs, soda cans and tires can all be used in making new roof products.
Milk jugs make for a great source of plastic that can be recycled into shingles. These shingles have a wood-like feel to them and look great. Recycled plastic shingles are modeled to look like cedar shingles, except they provide more resistance to weather elements and pests. These shingles are mold, insect, bacteria and moisture proof; proving to be one of the most maintenance-free products on the market today.
Recycled carpet also produces a wood-like shingle. These shingles are light weight and easier to install. Shingles made from old carpet are more environmentally friendly than traditional asphalt shingles, as they do not give off toxic chemicals. Between reducing the large amount of space that is taken up in landfills by carpet, along with reusing it to produce an environmentally conscious product, makes recycled carpet shingles a great choice for homeowners.
Roofing shingles made from recycled tires are great insulators and can drastically reduce the energy consumption of a home. These shingles are highly durable, providing great resistance to high winds and extreme weather elements. Recycled tire shingles are also one of the most fire resistant roof materials on the market.
Just think about all the trash you throw out each week; much of this trash is able to be recycled into many great products.  Not only does the house get a new roof, but the landfills will get a much needed break from overcrowding.