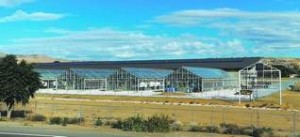 The University of Nevada, Reno, installed 3,000 square feet of solar panels to its Agricultural Experiment Station off Valley Road. Installing 171 solar panels on top of the greenhouse. Estimated to save approximately $6,300 a year in energy costs.
Opened in 2008, the research facility includes bio fuels and other renewable energy research and experiments. The panels were placed on the roof of field lab's greenhouse complex. The greenhouse was built with additional supports in anticipation of future solar panels.
The Department of Energy gave the university a $951,000 sustainability grant. The college also received $150,000 in rebates from NV Energy. A Combination of solar rebates and drop in the cost of materials pushed the project forward.
Estimated to generate about 60,000 KW of energy per year. The panels will generate electricity during peak hours saving money and lowering energy bills. Another building on campus, Joe Crowley Student Union has had solar panels and has been generating energy since 2008. The new panels are another step towards a more sustainable campus.
---
Roofing Quote
Get a free quote from a roof contractor in your neighborhood in seconds! We never share your information and only seek to put you in touch with the best local roofer in your area.