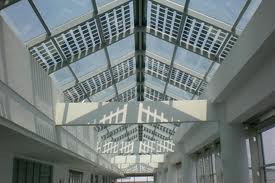 Pharmaceutical company Novartis, in East Hanover New Jersey is installing the largest transparent solar roof in the country. The transparent solar cells will cover the corporate headquarters roof. The cells will allow natural sunlight to come in and at the same time be delivering Novartis with clean and free energy.
New York architecture firm Rafael Vinoly designed the building and German Company Sunways will be making the integrated photovoltaic transparent cells that will cover the roof.
Unique Solar Designs
Sunways cuts small square holes in solar cells with a special laser and then integrates them into traditional building materials. Incorporating solar into glass panels or tiles allows roofing contractors to be creative with solar installations. The solar cells can be put in places not ordinarily utilized by traditional solar installations.
Sunways will be providing 161,000 5 x 5 inch semi-transparent solar cells for a roof area approximately 2,547 square meters. The building will have a glazed roof and a curtain wall that will be suspended from built up box beams at her roof level.
Other Novartis buildings have interesting roofs. Novartis Vaccines and Diagnostics Research lab in Cambridge MA has a green roof system on a deck overlooking the facilities campus park.
The Novartis campus in Basel Switzerland has a wing shaped roof that appears to be floating over the reception area. The 400 square meter roof is made from glass fiber reinforced plastic, thermal insulation and waterproofing in a single seamless component.