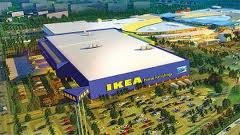 IKEA, the large Swedish furniture company, recently announced its plans to install 4,452 solar panels on the roof of one of their stores in West Chester, Ohio. The 344,000 square foot store is expected to produce 1.3 million kilowatt hours per year.
IKEA plans on adding solar panels to 5 other U.S. locations, including 3 in Maryland and 2 in Pennsylvania. The company is hoping installation will be completed by fall of 2011. IKEA has already installed solar panels at 18 other U.S. locations. The Brooklyn IKEA store has one of the city's largest rooftop solar arrays.
The 6 new solar arrays will total more than 6 megawatts and utilize more than 22,000 solar panels. While reducing 4,860 tons of carbon dioxide in the air, equivalent to removing 867 cars off the road.
IKEA has implemented a number of other sustainable efforts, including solar hot water systems that are already installed nationwide. Recycling 75% of their paper, wood and plastic waste. And using energy efficient HVAC, lighting systems, skylights in their warehouse and water conserving restrooms. The new solar systems are part of IKEA's continuing effort to run on 100% renewable power.