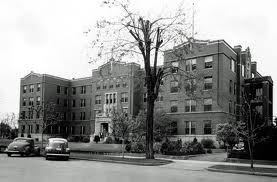 Providence St. Mary Medical Center in Walla Walla Washington is losing the gravel roof and installing a vegetative roof. Director of Public Affairs Kathleen Obenland says "there's been studies that have actually shown that patients who have a more pleasing view, need less pain medication, they feel better, heal faster".
The cost of the roof project is about $600,000. Installation of the green roof is due to be completed next week. They are using a roll out product with green sedums from the nursery. In the near future they plan on adding murals on the exposed walls hiding more rooftop units.
Hospital recognized for Environmental Efforts
Obenland went on to say "we believe that as a member of the community, it's important to be environmentally friendly, and its part of our mission and values."
Although the green roof has health benefits, for the patients and for the building, the new roof will be closed off to the public.
Other benefits of the green roof will be to reduce storm water runoff, conserve energy, more insulation for the roof and reduce the amount of money spent on power.
The Providence St. Mary Medical Center was founded by Mother Joseph of the Sisters of Providence who arrived in Walla Walla with her sister in 1863. The hospital opened in January 1880 as the first non-military hospital in Washington east of the Cascade Mountains.