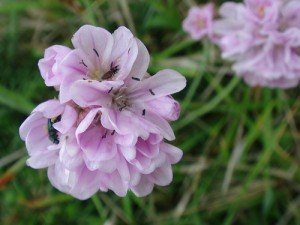 Juneau Alaska's new downtown transportation center will be the city's first building to get a living green roof. Being the first of its kind in South East Alaska, the 1,000 square feet roof will have sedums and native Alaska sea thrift. The greenery acts as insulation saving the city money on heating and cooling costs.
The roof was designed to be attractive and environmentally sensitive. The native plants selected are hearty and can survive heavy rains, draught and heat without much landscaping and will save on maintenance costs. The flowers will bloom at different times creating diverse views throughout the year. The plants are set in square trays and laid out in basket patterns on the rooftop. Although the roof is not accessible to patrons, it can be viewed from a neighboring 4 level parking garage and from nearby Telephone Hill Park.
The under construction transit center will have a waiting area for the bus line, concessions, restrooms and a police substation. Anchorage and Fairbanks Alaska are already implementing green roofs on some of their buildings.
---
Roofing Quote
Get a free quote from a roof contractor in your neighborhood in seconds! We never share your information and only seek to put you in touch with the best local roofer in your area.