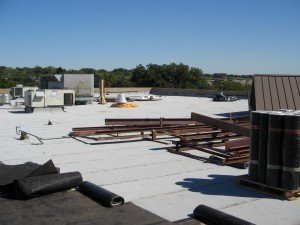 Rooftops and roads lighter in color can help reduce carbon dioxide emissions and slow climate change says scientists at Lawrence Berkeley National Laboratories in California. Significantly cutting emissions and combating global climate change by cooling cities and the world, researchers say. ScienceDaily.com reported that cool roofs and cool pavements in cities around the world could cancel the heating effects of up to 2 years of worldwide carbon dioxide emissions.
Cool roofs are one of the quickest and lowest cost ways we can reduce our global carbon footprint. Increasing the reflectivity of roof and pavement materials in cities with population greater than 1 million would achieve a one time offset of co2 emissions double the worldwide co2 emissions levels in 2006. Cool roofs have worked for thousands of years in Mediterranean and Middle Eastern cities where demand for air conditioning is low.
Cool roofs deliver high solar reflectance, reducing the heat transfer to the building. Enhancing roof durability and reducing building cooling needs and the urban heat island effect. The surface of a black roof can increase roof temperatures as much as 90 degrees Fahrenheit. Cool roofs have a typical heat increases of 10-25 degrees Fahrenheit above ambient temperature during the day. There are three types of cool roofs:
Inherently cool roofs; made of thermoplastic white vinyl, white reflective membranes.
Coated roofs; ceramic coatings or high performance nanotechnology heat reflective paints.
Green roofs; typically consisting of an insulation layer, waterproof
membrane, drainage layer, growing medium and plants.
Black roofs are preferable in cooler climates, where more energy is produced to heat the house than to cool it. Green roofs are a good option for cooler climates with a flat roof.