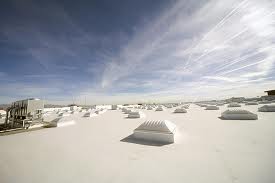 Some states already have codes in place for implementing the cooler white roofs on commercial buildings. White roofs stay cool in the sun by minimizing the sun's absorption and maximizing thermal emission and are considered "cool roofs". The light colored reflective roofs bounce sunlight back and reduce the urban heat-island effect.
Scientists at Lawrence Berkeley National Laboratory are advocating light roofing materials in building codes. Not only do the light roofs cut heat that is absorbed into the building but it also cuts carbon emissions by reducing air-condition use. The scientists' calculated one average size house emits 10 tons of carbon dioxide per year.
Building Codes
Since 1999 several widely used building standard codes have adopted cool roof credits or requirements. In 2005 California building code Title 24 was enacted to require modified flat roofs to be white or light in color. That law was updated in 2008 to include residential sloped roofs in California's 5 hottest zones. Several US cities and Arizona, Hawaii, Georgia and Florida have similar building codes.
According to Global Cool Cities Alliance, for the first time in human history over half the world's population lives in urban areas. Most roofing materials are dark and typically absorb over 80% of incoming sunlight, converting it into heat. Cool roofs transfer less heat to the environment, resulting in a decrease in the outside air temperature creating cooler and cleaner city air.