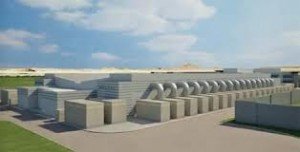 In Chandler Arizona the need to store rainwater has prompted an unusual roof top design. At CyrusOne data center the new roof will have higher sides and taper down to a channel running through the middle of the massive 1 million square foot facility roof. The data center will be modular and plans for completion in the first part of 2013.
Kevin Timmons CyrusOne CTO said "it's an innovative marvel in itself. It is peaked at the perimeter with a valley through the center spine, exactly the opposite of every other roof you've seen. This roof shape allows for the natural convection of a hot return air from across the mission critical space back to the perimeter of the building where cooling units are installed. At the same time, the center valley collects rainwater and routes it away from the building to catch basins where it is reused for site cooling and landscaping needs."
Data Center Guy
According to a blog by Timmons at freshairdc.blogspot.com as a "data center guy" he and others like him, locate, design, build or operate facilities that house computers and electronic storage. On the blog there are pictures posted of the construction on the project they have nicknamed "Ginger". There is also a design of the innovative commercial roof and evaporative cooling technology that will be used to cool the center.