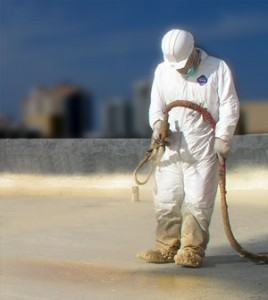 Most commercial buildings pose unique challenges to the maintenance of its roof. With very little slope and often plagued by large structures, commercial roofs must be innovative with their choice of roof materials.
In the past, many roof systems used tar and rubber coatings to keep out moisture and protect the integrity of the roof. As technology changes, so does the materials and procedures available for roof repair and maintenance.
Spray Foam Systems
A new trend in commercial roofing is using a spray foam coating. Similar to the product used to dispense attic insulation, a spray foam roof uses a lightweight product that spreads easily and dries hard. Not only can a commercial roofer cover large areas in half the time, the spray foam material is a far superior product to concrete or rubber roof materials.
A roof covered in spray foam is highly water resistant and holds a great insulation value. This roof material is self-flashing, which reduces the chances of water leakage, and is more durable than traditional commercial roof materials. The polyurethane foam contains an SPF factor that increases is durability makes it more resistant to the sun's UV rays.
Further, spray foam roofing is an Energy Star rated product, meaning it adheres to the environmental standards set forth by the government as reducing the dependence on traditional energy. A properly installed spray foal roof can lower the temperature of a roof by up to 100 degrees F through its high reflectivity coating, making it a green roof product of its own kind.