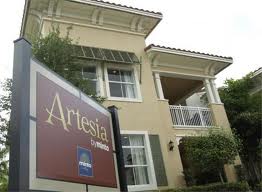 In Sunrise Florida, residents of Mediterranean style luxury condos are complaining of leaking roofs, rotting fascia and cracked walls. The 4 story condo towers at Artesia cost $300,000 to $600,000 and were completed in 2008, the complaints started in 2009.
Patrick Horan purchased 6 condos and is the association president at Artesia; talking about the roof he said "It is deteriorating in front of our eyes because of the way it was installed. The roof is bubbling. It started in 2009 with small pancake bubbles and it has just grown."
Who Is To Blame?
Minto Communities, the developer puts some of the blame on the condo association for not maintaining the buildings. Steve Svopa, Minto's vice president said "we want to do the right thing." He went on to say "Minto and its subcontractors have investigated all of these issues, and have agreed to correct virtually all of the items raised, whether or not they are the fault of the associations' lack of ongoing maintenance or construction issues."
Terrance Duffy bought 3 condos and is the secretary and treasurer for one of the condo associations, when talking about Minto he said, "They are blaming the installer and /or the materials supplier for the roof. They have indicated a willingness to continue to patch active leaks as they occur, however this is not acceptable to us. We want a proper roof, properly installed."
The homeowners have complained twice to officials at Sunrise City Hall only to be told it is a civil matter between them and the developer. The next course of action may be a lawsuit if the roof repair is not completed to the condo homeowners satisfaction.