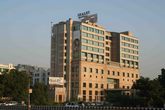 In Saraspur Ahmedabad India, the Smt. Shardeben General Hospital replaced its black tar roof with a reflective white china mosaic.
Head of medicine Dr. Shubha Desai stated that the hospital's roof repair is helping save lives. Reducing the indoor temperatures and improving the health of the patients, especially the infants. The children's unit and neonatal ward where previously on the top and hottest floor of the hospital until recently moved to the lower and cooler levels of the hospital.
Ahmedabad Population About 3,910,000
Ahmedabad is one of the fastest growing cities in India, Smt. Shardaben General Hospital is the city's municipal hospital and it services some of the poorest communities in India. The hospital sees a dramatic increase in heat related illnesses during the hot summer months.
Ahmedabad gets extreme heat for several months a year. Average summer heat from March to June is 106 degrees, the average temperature from November to February is 86 degrees. The climate is dry until the southwest monsoon brings a humid climate from mid-June to mid-September.
Ahmedabad Municipal Operation is planning to replace all the hospital roofs with the cooler white roofs to help mitigate the intense heat.