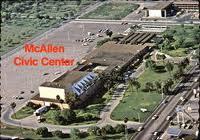 March's hailstorm damaged the McAllen Texas Civic Center Auditorium's roof to the tune of $24,000. The commerical roof had an elastomeric acrylic coating that was damaged causing water to pour into the 52 year old theater. The auditorium is located at 1300 S. 10th street in McAllen.
The roof was replaced in 2007 costing the city of McAllen close to $49,000.
The 5-year warranty on the rubber like coating had recently expired leaving the city to cover the cost of repairs. Employees were able to mop up the inch of rain covering the floor, but the wood floor on the stage still buckled due to the moisture. Several events had to be cancelled due the theater flooding.
Theater Open Although Roof Still Leaks
Workers covered the hard wood floor with plastic and ran a humidifier to fix the buckling. Omar Rodriguez, who oversees the auditorium, stated in a letter to customers "As it stands today, we feel confident that we can proceed with your bookings at the auditorium on the original dates contracted."
Other city buildings were also damaged in the hail storm; it is unknown at this time when the civic center or other roof repairs can be made.