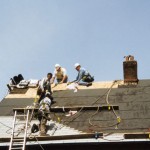 Having a roof replaced can be a big project and requires some planning. If you know what to expect in advance you can be prepared.
Documents
Roof installation requires permits that are issued by the city. Your contractor will be responsible for obtaining the necessary documentation before any work begins. However, as a homeowner it is your job to make sure these documents have, in fact, been obtained and are legal. Once your roofing contractor has acquired the proper permits and the contracts are all signed and in order you can expect the trucks to come rolling in (and on your lawn).
Inform Your Neighbors
Roof installation can be a noisy and intrusive process. Your neighbors will also be affected by the installation process. Therefore, you will want to let your neighbors know when and how long the project will last. It's courteous to let them know there will be extra traffic and noise.
Plan For The Contractors
Discuss before hand where the crew can bring their trucks and dumpster in if they are using one. They are going to want to get as close to the house as possible so the debris can be tossed right into the dumpster.
Mark your sprinkler systems and cover your plants. Remove any lawn furniture or anything that can be damaged and protect them from flying debris (like your old roof).
You may want to remove your vehicles from the driveway so they don't get blocked in. If you share a driveway with your neighbor you will want to let them know as well.
Expect Some Noise
People will be walking on your roof, hammering and using bars to remove your old roof causing vibrations and shaking. You will want to remove any hanging objects from your walls and ceilings. Pictures, chandeliers, plants and hanging light fixtures etc… You can ask your contractor to help you get the inside of your house ready for the roofers.
If your roofing company uses power tools, be sure to ask if they brought their own batteries or generator, or if they will need access to your outside power source. If you do not have an outside electrical outlet, they may ask to run an extension cord into your house.
There will be a lot of noise during the construction. Trucks, tearing off the roof, sawing and constant hammering with pneumatic and hand tools. If they are not tearing off your old roof, the noise and debris may be lessened.
Prepare For Debris
They usually don't clean as they go, so your yard may be littered with old shingles and stacks of new shingles and plywood. Once they are through with the work they will clean up your yard and remove the dumpsters or trucks. Be sure and talk with your contractor if you have any concerns or issues while the crew is working on your home.
If you have pets, you may want to keep them indoors or have them stay elsewhere so they don't get into any debris or trash that is around. Also, when contractors are removing the old roof, or bringing up new materials, the installation process can threaten their safety.