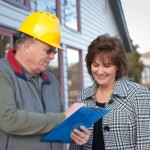 Nothing haunts a homeowner quite like experiencing problems with their roof. It is a chilling thing to witness when rain water drips into your happy home one drop at a time, and you know with crystal clear certainty that it is time to hire a local roofer.
Hiring a good, honest and competent roofer is a surprisingly difficult task in this day and age. Though swindlers and unscrupulous contractors can be found in nearly any industry, with the high stakes and higher expense of roof repairs, a homeowner must be especially vigilant about the roofer he or she hires for their roof repairs.
Here are five questions to ask any prospective roofer before you sign on the dotted line.
Do You Have Liability Coverage, Current License And Workers' Insurance?
The answers to all three of these questions need to be "yes" without hesitation. As a follow up, ask to see the relevant paperwork for these three things. If the roofer cannot produce them, chances are he does not have them. Look elsewhere.
Can I Have A List Of References?
It is crucial that you follow up on the roofer by checking his references, both previous clients and professional affiliations. If a roofer balks at providing you with these, again, look elsewhere.
How Much Is The Deposit On Repairs?
You will need to know how much up-front money the roofer requires before beginning the repairs, both for your own budget and to ensure that there is good faith money on the table. Never pay for the entire cost before work begins.
What Is The Time Frame For The Repairs?
This is important, in order to get the roofer to commit to an articulated deadline for completion of the repairs.
What Do I Need To Do To Prepare For Your Work Before You Begin?
This is an important step that many people often overlook. This can help you save time and money by allowing the roofer to get started right away when he shows up for work on the first day.