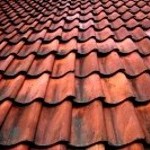 There have been many new developments in roof materials over the years. As each day passes, we learn something new about what we need in a quality roof; the most important aspect being to protect the inside of our homes. Weather, dirt and animals can all be problematic to our homes if not protected adequately. Roof materials are constantly evolving into newer and better products.
Out With The Old
In the past, most residential homes had asphalt shingles on the roof. This has been a popular choice among the majority of homeowners for two reasons (1) they are cheaper than other roof materials and (2) they come in a wide variety of colors. Asphalt shingles haven't changed much these days except for they now come in a recycled variety, popular among "green" roofers.
Older commercial roofs were made up of hot tar or rubber materials. It was once thought that the tar or rubber would provide a better seal for a larger roof; however, we have since discovered that these roofs tend to crack and leak easier than newer roof materials. In the past, hot tar or rubber roofs were the most cost effective choice, but newer developments in commercial roof materials have replaced these roofs with equally cost conscious choices.
In With The New
Homeowners now have more choices in residential roof materials. Wood shakes, clay, metal and slate are becoming increasingly popular roof choices. Wood roof shakes provide a unique, rustic look that many homeowners are looking for. Clay and slate tiles are heavier and durable, but can also come with a larger price tag. Metal roofs provide a middle-of-the line cost option, while offering durability along with an eye grabbing appeal. There also have been big advances in green roofing materials that can fit any budget.
Commercial roofs have taken a new approach by offering concrete or plastic-based roof products. Both of these roof materials are longer lasting and more resistant to damage than the old tar and rubber roofs.